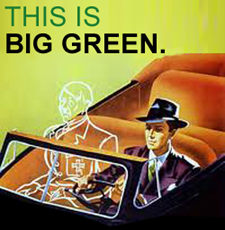 Drat. Scuttled by a solar flare. That was a serious oversight on the part of that person we put in charge of planning our interstellar tour. Who was that again? Let's see .... oh, right. It was me. Well ... no ice cream for me tonight.
Okay, well ... looks like we're having the interstellar version of a rainy-day schedule today, but instead of coloring books and tunafish sandwiches, let's break open the November episode of our
THIS IS BIG GREEN podcast
and see what's crawling around inside.
Ned Trek 30:
"The Deadly Queers". This thirtieth episode of our Star Trek parody is based on the classic episode "
The Deadly Years
", in which the Enterprise command crew is affected by radiation that quickly turns them all into raving geezers. In our version, radiation causes the Free Enterprise crew to become progressively more gay - a fate worse than death for our hyper-conservative, free market, confederate flag-waving heroes. There's a lot of tasteless swanning about and gay sex references that none of us are proud of, but hey .... satire. Extra special appearances by Senators Lindsay Graham, Roy (aka "Roy-toy") Blunt, and Bernie Sanders.
Songs:
Embedded in Ned Trek 30 are seven new Big Green songs. These, as always, are rough mixes of recordings that will, in some version, appear on a future album or albums yet to be determined. Here's what we've got:
---
Tinkerbell Neocon
- Medium tempo guitar-driven rock duet sung by Perle and Doc Coburn. This one gets stuck in my head, quite frankly, so beware!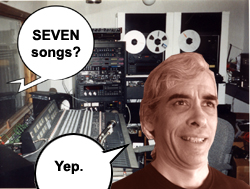 Fairy Dust
- Another dirge by Sulu (the one original cast member that is somehow part of this "next degeneration" version of Star Trek). Very moody little number.
Oklahoma Mo
- A slightly gay Doc Coburn nod to his cow town oil-patch upbringing.
Space Fandango
- Romney song that should have been a tango (and may still be one day), all about Stephanie O (the captain's Don Ho). Ummm ... hilarious.
Let Me Go
- The android Nixon does this over-the-top sixties rock ballad about needing to go to the can. I don't think we're breaking new ground here, but it's certainly the first song I've ever done that places having to take a piss in the context of mid 20th century presidential history.
Potato Salad
- Ned song with kind of a sixties vibe. No, it doesn't make any sense, even in the context of this ridiculous and borderline offensive episode of Ned Trek, but here it is anyhow.
Spanking Machine
- Pop song, sung by Willard, that harkens back to his boarding school days.
---
Put The Phone Down:
Matt and I kvetch about the Trump election, rail at a useless media and an even more useless Democratic party, and look ahead in dread at what outrages lie before us. Laugh a minute.