Twang.
Ouch.
Twang, twang, twaaaaaangg.
Ouch! God damn it. Where did Marvin go, anyway?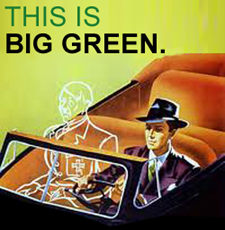 If there's one thing I hate like fire (aside from fire), it's changing guitar strings, particularly on an acoustic guitar. Whenever I do it, my hands feel like big slabs of beef, like I'm threading a needle with a sledgehammer. Ham-fisted to say the least. (Think that's rough? You should see me PLAY guitar!) Ergo, I get Marvin (my personal robot assistant) to do it whenever possible. Not a bad outcome usually, unless he insists on testing it out afterwards. (Not Greensleeves again, Marvin, for chrissake! I hear it in my sleep as it is!)
The reason I'm changing the strings on my 17-year-old Martin D-1 (nearly college age!) is that we're currently producing the next raft of songs to be included in a future episode of
Ned Trek, our Star Trek / Mr. Ed political parody
. (Complicated enough for you? It's a satire! It's a polemic! It's a musical!) I have a folk-like song in 6/8 that needs an acoustic, and I'm not going to ask Matt to learn it because, hell, he's too busy and, hell x 2, he's got a head full of his own songs and doesn't need mine muddling up the works. It's like a mixmaster blender in there right now. Crazy man.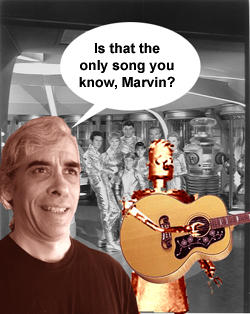 So here I am, strumming the old D-1, grinding my fingers to a raw nub. I don't use a flat pick. Nor any other kind of pick, actually. I just strum the strings with my thumb, forefinger and middle finger, mostly, and dud them out with the heel of my palm. It's a cheap bastardization of that Joni Mitchell / Neil Young technique - pretty much the only method of playing six-string that I ever bothered to learn. Limited, yes, but when I play something in three, it's pretty much useless, so I end up strumming like my fingers were a pick. (And by the time I'm finished, they pretty much WILL be a pick.)
Next week:
Joe's banjo tips. Find out how I pulled off banjo parts in Big Green songs such as "Box of Crackers," "Limping Back to Texas", and other hits. (Hint: used my fingers again.)