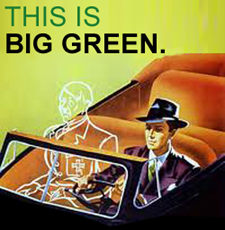 I'm sure I put that window putty around here someplace. And no, I'm not using masking tape again. You think tape is the answer to everything! Look at your clothes - they're all taped together, for chrissake!
Whoa, damn it. Sorry for all the shouting. Not the best way to start out a new year. Tempers wear thin when you get extremes of temperature - I don't think that's a coincidence. It's been decades since the abandoned Cheney Hammer Mill has had anything like climate control technology, and back then it just amounted to an enormous, octopus-like boiler in the basement. In the summer, they opened a few windows. (With all of the broken windows in this old barn, we don't need to do
that
anymore.) But now, when the mercury dips below zero, well .... we have to innovate.
Now, you would think that we would benefit from having a mad scientist on retainer (no, really ... his dentist had him fitted for one last week), even if his advanced knowledge is somewhat tainted by the sound of wild cackling in the night. I took it upon myself this past week to ask Mitch Macaphee if he had some solution to the cold; you know, move the earth a few million miles closer to the sun, or laser open a magma vent ... stuff like that. He pretty much ignored me. I was picturing some kind of atomic solution - the equivalent of a neutrino space heater, but no luck.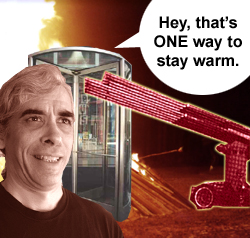 Even so, Mitch seemed not too bothered by the sub-zero cold. I got curious, so I sent Marvin (my personal robot assistant) into his mad-science lair to take some web cam video. Turns out, Mitch has been holding out on us. Apparently, he's been using the Orgone Generating Device left behind nearly a decade ago by our old friend Trevor James Constable. He switches on the OGD and creates a curved time-space anomaly that amounts to a portal to Miami. Well, that's the rough equivalent of having the windows open on a summer day, right? So it's nice and toasty in his study; meanwhile, we're burning the furniture out here in the not-so-great room. Christ on a bike. If you've got a cure for leaky mill windows, send them our way.