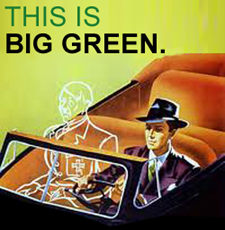 That's it, Lincoln. I'm tired of your get-rich-quick schemes. They always end up with trouble. Like that "Civil War" idea you had once. How did THAT turn out?
Damn, I'll tell you ... sometimes I feel like a walking suggestion box. Every time I turn a corner in this cavernous abandoned hammer mill, someone starts pitching ideas to me about what we can do to generate income, filthy lucre, serious bank. Capitalists! All they ever think about is their money. What about MY money? When the hell is someone going to build an economic theory around THAT? If I hear one more hare-brained scheme about starting a theme park based on the history of hammer manufacturing in North America, I'm going to move to another kind of abandoned mill entirely.
That said, this place really would lend itself to being a kind of theme park. They could do a kind of Gaslight Village or something equally fourth-rate - the vintage is about right, construction wise. Or it could be a life-scale model of an early 20th Century factory town, with plastic manikins and some kind of conveyor belt ride that drops you into a vat of molten nickel. (And it would only cost a nickel!) They could have a whole separate section in the courtyard called "Strike Land" where you can walk in circles holding signs that say, "Day's Work For A Day's Pay" and "Enough is Enough". Then half-trained actors dressed as Pinkertons file in and beat the crap out of you. Hey ... it's educational!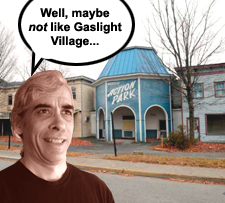 Of course, why should we limit ourselves to the most obvious options? Hell, you could do anything in this barn. Just hang a sign over the front door that reads "Lost in Space Land" and you've got a theme park fit for the Robinson Family. Marvin (my personal robot assistant) could take tickets at the door, and Anti-Lincoln could pose as Professor John Robinson, so long as people aren't expecting the stubble-bearded military dude in the current reboot. So what if John looks like Lincoln? He was modeled on Kennedy ... isn't that close enough?
There I go. Will you just look at me? I'm doing the very thing I admonished my colleagues not to do. I guess now THEY'LL have to find another kind of mill.