That thing is way out of tune ... I mean WAY out of tune, dude. Use my phone. No, not my SMART phone ... that Bell Princess phone over in the corner, next to the mansized tuber. The dial tone is a low F#. Just transpose, for chrissake. DIVAS!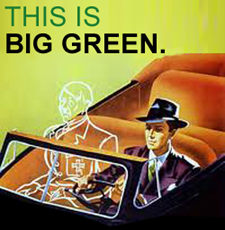 Yes, you're listening in on another Big Green rehearsal. It's like you're a fly on the wall. In the Cheney Hammer Mill, that makes you inconspicuous .... not because you're so small, but because there are so many flies on the wall, you meld in with the multitude. Anyhow, we're running through a few numbers, putting down tracks, laying in a groove, etc. etc. Sometimes it's hard to keep all of these various stringed instruments in tune with one another, especially when the city cuts off your electricity, your internet connection, your phone service, your water, and your air. (That last cut-off only happens on Type-M planets.)
No, we haven't had our electricity cut off this week (yet), but life is still bloody complicated. Four-string bass guitars are hard enough to tune; try a six-string acoustic! Don't even talk about pianos and organs. (No, really ... don't even talk about them. An off-color word can make them slip out of tune.) Fortunately for me, my keyboards are of the electronic variety, so tuning is as simple as turning a little knob or clicking an item in a graphic user interface. Or pushing on a bender and securing it with tape. (Non-standard method.)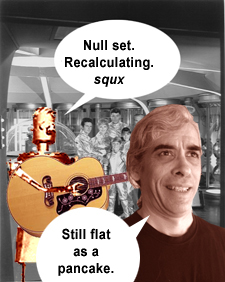 Matt and I are putting the finishing touches on the next batch of Ned Trek songs. When I say "finishing touches", I mean "adding essential musical elements without which the songs would be virtually unlistenable." Details, details. In any case, we have six (or is it seven?) numbers under construction, some of which border on the blasphemous, others tinkering with long-held practices of civilized peoples, still others merely dabbling in the art of giving grave offense. A controversial collection? Depends on your point of view.
Important side note: No animals or humans were harmed in the making of this music. Though Marvin (my personal robot assistant) has suffered slightly from mechanical wrist overuse syndrome (or MWOS), as he is our defacto percussionist.