That one? Sure, why not? It's been a few weeks. And I guess you could say that 25 years is a few weeks ... because, well ... it is.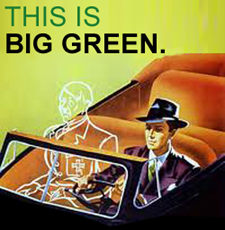 For whatever reason this week, I am reminded of one of Matt's songs from yesteryear, a number called "Don't Give Up The Ship". It's probably because the Cheney Hammer Mill is leaking like a sieve, but that's nothing new. Or maybe it's because we've finished mixing the podcast songs (all eight of them!) and I'm starting to trawl through our old tapes for lack of anything better to do. Just call me Riley. The guy with the life.
As I've said here before, we've got a million of 'em (songs, that is), but unlike the late Prince, they are not all exquisitely recorded and salted away in a vault. No, friends ... they are poorly recorded on 4-track cassette, mostly, and chucked into the cramped, musty vault called my skull. "Don't Give Up The Ship" is a Quixotic riff centered on Perry's flag, and it's always had a lot of resonance with me, frankly. Here's a sample of the lyric:
Well it grieves me when I see you
On some moldy homemade raft
You've no life jacket, there's not precautions
You're spinning downstream and you're laughing
Well I'm not about to stop you
I've not the will and I've not the means
Still I stand here like I'm waiting
A world without you I've never seen
You say, "Read it off the flag ..."
Don't give up the ship, says the flag that
flies above the turbulent waves
Don't give up the ship, be a fool and
hold the course away from the shore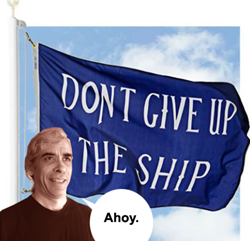 We've got a lot of back pages, and a lot of archival recordings from our various periods. I'm not talking about the Precambrian here - well, not exactly. More like the 1980s, 1990s. Our earliest incarnation of the band that became Big Green was probably 1979, about a year after I took up bass as an instrument. We've got studio recordings from 1981, '82, and '91 or so. I've got live recordings from 1993, mostly (Matt may have some earlier material squirreled away somewhere), most of which are pretty rough.
I also stumbled upon a video that was shot by the friend of a friend. It's essentially a demo, kind of a videotaped rehearsal. I digitized it this past week and will set about cutting it up and posting some excerpts. It's a pretty good representation of where we were musically around the time we were playing with the very fine guitarist Jeremy Shaw, who now works his butt off all over the country.
BTW - We dropped an advance mix of one of our podcast songs, "
Romney and You Know It
", last week on Soundcloud.
Check it out
. (Look for the podcast episode this coming week.)