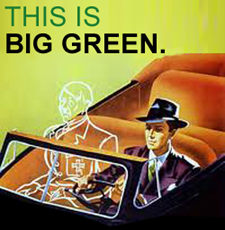 Okay, subject matter experts - let's get down to it. We've written about fascists on the rise. We've written about space diseases. What's left to write about? What? Christmas again? Oh, Jesus Christ on a re-gifted bike. Very well.
I'll tell you, you ask a question around this place and you come away with six more questions. At least that's an even number. That said, we're still making music over here in Big Green-land (and no, I don't mean big Greenland ....
everyone
makes that mistake), and well, Christmas is coming, so ... that means more Christmas themed songs, right? Donald Trump and Bill O'Reilly will be overjoyed to hear that there's music that uses the word "Christmas" occasionally, even if it is mostly for humor and ironic purposes. (Or porpoises. Like hipster porpoises who do shark-like shit just to be ironic. You've seen that, right?)
As I mentioned a couple of weeks ago, we are planning a holiday podcast extravaganza, with newly recorded Big Green classics never before heard by the likes of you, as well as some brand new material. (I don't mean
fabric
, either - I mean
music
, music.) We're in production, or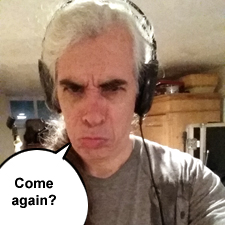 pre-production, or something like that. This will be the first group of songs we've recorded entirely on Cubase 9, with no help from our trusty old Roland 2480 deck, which served us so well for the last 16 years. So we'll just see how that goes, my friends.
Okay, so ... we started working on the Roland deck a year or two after the release of our first album,
2000 Years To Christmas
, and I have to say, this group of songs we're doing are pretty closely related to the songs on that disc. Why Christmas? Because Jesus. Or because it starts with a C. I don't know - that's just what we hang the song on, much like a shirt cardboard. (We kind of used former Texas governor Rick Perry as a shirt cardboard for one of our albums,
Cowboy Scat: Songs in the Key of Rick
.) It makes it easier to develop a theme and ... oh, who cares?
We'll just keep making the songs, Christmas themed or not. You expect no less. And no more.