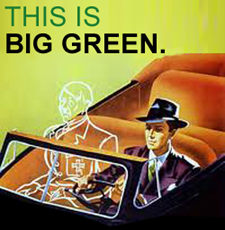 Hey, presto. Pulled a fast one on you last week, didn't we? Just when you least expect to see a new episode of THIS IS BIG GREEN, there it freaking is, plain as paper and twice as thick. As has been our practice, this featured another "musical" episode of our warped space opera Ned Trek, the only Star Trek parody that features an all-neocon crew, a Mormon captain, and a talking dressage horse as its first officer and moral compass.
What's inside the podcast? Well, the best way to find out is to suffer through it. You can do it! Short of that drastic step, here's a brief guide to August's TIBG:
Ned Trek 24: Whom Gods Deploy
- This episode of Ned Trek is loosely based on the third season classic Star Trek episode, Whom Gods Destroy, the one with Captain (a.k.a. Lord) Garth, the inmate who takes over the space insane asylum and plans on conquering the universe. In our version, the inmate is George W. Bush, former imperial president, who spends his days on an asylum planet painting abstract portraits .... works that appear to presage actual events, as if (dare I say it?) he possessed some kind of supernatural power, like the guy in
The Lathe of Heaven
, except more on the hayseed side. (Side note: W has a serious fear of horses, my brother tells me.)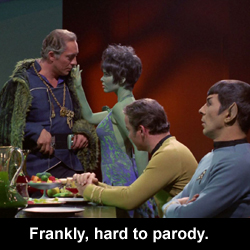 Song: Up On The Bridge
- Another Sulu number, one that chronicles his career fall and rise with the ebb and flow of the Star Trek phenomenon.
Song: I Paint What I See
- Ex-president George W. Bush explains the genesis of his muse and its relationship to his overall worldview.
Song: Naturally
- Pearl's song to his former boss and chief advisee; a lament about W's sorry condition as a painter, not a war-starter. Country-fied.
Song: Stephanie's Song
- Mr. Stephanie croons about W's fear of horses and all hooved creatures in this quirky waltz.
Song: Baby Bush
- A Romney number, encouraging W. to reclaim his pedestal as The Decider. Shuffle swing number.
Song: Jesus Has a Known Mind
- Doc delivers an awesome message from the lord in this rock-out number. Mean!
Song: Real Talking Horse
- Ned's song, with a strange early-sixties ending reminiscent of the Four Seasons, somehow.
Pointless Banter
- This you have to hear. I can't describe it other than to say that I probably said things I regret, but .... post!