Look ... they were bound to find out sooner or later, right? I mean ... you can't commandeer a whole planet ... even a
dwarf
planet ... without someone taking notice at some stage. Mitch? Mitch, are you still there? Hello?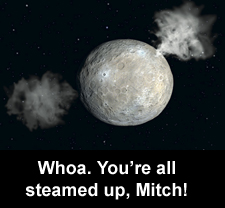 Right, well ... I was just talking to our mad science adviser Mitch Macaphee via Skype, and it seems he has a problem. And when Mitch has a problem, frankly, we
all
have a problem. That's the thing with mad scientists. One day they're inventing something dumb and innocuous, like Marvin (my personal robot assistant). The next they're assembling the elements of some plane-smashing behemoth or a diabolical extreme weather machine (though I think that last one has already been invented by the mad "scientists" we call America's Oil and Natural Gas Industry).
As you may recall, we've been wondering what Mitch has been up to for the last couple of years. Last we'd heard he'd gone on an extended mad science bender in Madagascar. (We'd been expecting the place to begin levitating or emitting deadly baritold rays at any time.) Turns out we'd been misinformed. Mitch had somehow relocated himself to the former asteroid, now dwarf planet Ceres, which orbits the sun at a respectable distance, in the deadly asteroid belt between Jupiter and Mars. (Yes, asteroid "belt". Imagine our solar system as a middle-aged American; Jupiter is his/her corn-syrup enhanced abdomen, poking out from just south of this so-called belt.)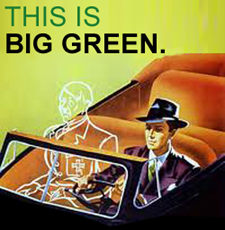 Well, as you might imagine, Ceres is the kind of place where a mad scientist can pursue his passions undisturbed. Until today. Nasa's "Dawn" space probe (apparently underwritten by the people who make the detergent) has just achieved orbit around the dwarf planet. That's why I got the interplanetary Skype call - Mitch is livid! He obviously thought he had the whole place to himself, oversized golf ball that it is, but apparently NASA has been working on this "invasion," as Mitch calls it, for the last seven years. "Stupid Obama!" he shouted over Skype, and I nodded quietly to myself.
All right, well ... this may not end well. We'll keep you posted on what emerges from this encounter (assuming it isn't painfully obvious).