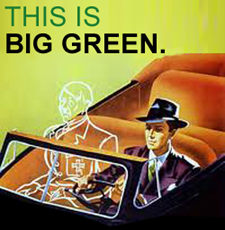 Not running again, eh? Try knocking it upside the head again. Harder. HARDER! Oh, wait ... you knocked its head off. That's probably too hard. Oh well....
Hey, welcome to the house of Big Green - that abandoned hammer mill we call home, because all of the groups live together. Just trying to get down to recording some new material, old material ... whatever! If we can just get our technology to work for five minutes. (Actually, three and a half minutes would do, since this is pop music.) Seriously, we've got some old gear, folks. It's almost as old as our asses. I'm not even talking tape recorders .... I'm talking
wire
recorders. I'm talking those wax record cutting machines they used when John-boy was being interviewed by a radio station on
The Waltons
after he got swindled by the vanity press dude. (Oh, you thought I forgot, didn't you? Mr. TV Swindler!)
Ahem. Anyhow, we really are running on three cylinders down in Big Green's clubhouse recording studio in the basement of the Cheney Hammer Mill. The eight-track DTRS machine we used to record
2000 Years To Christmas
is a paperweight. The 16/24 track hard disc workstation we used to record
International House
and
Cowboy Scat: Songs in the Key of Rick
is 17 years old and ready for that farm upstate. We're taping together our headphones and coaxing our pre-amps not to self-destruct. It's a sad state of affairs, to say the least. Our neighbors keep saying, do a GoFundMe campaign or something, but hell .... that would require the invention of the personal computer. Our gear tells me it's still 1982.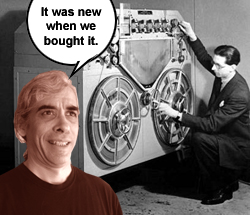 Marvin (my personal robot assistant) is probably the most sophisticated piece of technology we have at our disposal. In fact, that's exactly what he is - a re-purposed garbage disposal. I'm told that our mad science advisor, Mitch Macaphee, added some arms and legs and popped a refurbished Commodore 64 computer in his noggin, then it was off to the races with him. We could probably use HIM as an audio recorder almost as easily as we manage with our antiquated Roland VS-2480, but it would require some modifications, and damn it, we're Luddites. We just flip the switch and a light goes on - the rest is magic.
So, hey ... we'll get those songs committed to .wav somehow, never fear. Just don't ask me how they got there afterwards.