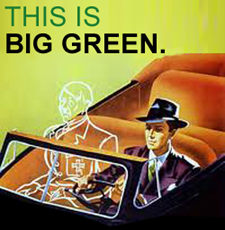 What's that rattling you hear? Could be the sound of Tomahawk missiles. Or maybe it's just a loose screen in the upstairs window. Those may be the same exact thing, in effect.
But there is a third possibility, and that is the April THIS IS BIG GREEN podcast. We've got another boatload of sound for you this month - here's a brief look inside the ship's hold (just to overextend that little metaphor) ...
NED TREK 32: All Our Festeryears.
A take-off on the "All Our Yesteryears" episode in the original Star Trek series (I believe their second or third to the last episode ever), Willard, Ned, Pearle, and Sulu pay a visit to a strangely deserted world, the entire population of which has retreated into old B movies on VHS tapes. The caretaker of the library (or Blockbuster Video) and his various doppelgangers are played by Ronald Reagan. Ned and Sulu have to deal with cheap-ass cinematic cowboys, whereas Willard and Pearle face-off against cave men. Kind of lame, but .... whatever.
Put the Phone Down.
We start with the cornbread song, then move downhill from there. Some bird talk, some pondering of dialogue from the TV show
Kung Fu
. I could draw you a picture, but it wouldn't be pretty. I'm thinking about brewing some coffee before we start talking next time out.
Song: Doc's Freedom
. This was from the very early Ned Trek episode called "Spector's Grandchildren", in which telekinetic space aliens forced the crew to sing. One of my favorite Doc Coburn songs, this one comes complete with a funky intro. Look for a version of this on Big Green's eventual Ned Trek collection.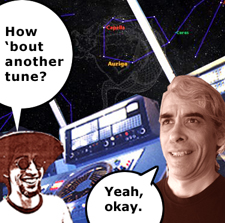 Song: Neocon Christmas.
This is a Mr. Perle song from another early Ned Trek - "Santorum's Christmas Planet", I think. Kind of a jazz trio treatment on this, with backing vocals from the non-sequitur 40's guys.
Song: Jesus Got A Known Mind.
Another Doc song, and again, a particular favorite of mine because of its primitive rock vibe and the backing vocals seemingly borrowed from
Helter Skelter.
Rock out, people!
Song: Up On The Bridge.
Featuring Mr. Sulu, this song from a more recent Ned Trek episode contemplates the volatile fortunes of a certain T.V. actor whose fame was built on a re-run cult following that persists to this day. The vocals on this are kind of hilarious. (We spent more time on that than anything else.)