You can't just look through the telescope. You have to squint really hard to see them. That's because, well, they're either really, really small or really, really far away.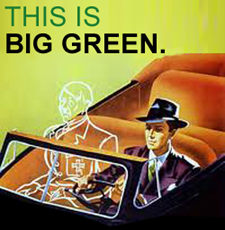 What are we doing now? Good question. Aside from working on yet another episode of THIS IS BIG GREEN, our somewhat-monthly podcast, we are trying to catch up with some of the incidental characters in the shaggy dog story of our lives. Isolated from the world as we may be here in the abandoned Cheney Hammer Mill, buried in a mountain of snow, we still have a fitful internet connection and at least one hand free. We can track down pretty much anyone on the other end of that "series of tubes" known as the Web. (Precious little else we can accomplish, at least until Spring.)
For instance, what is Mitch Macaphee doing? Well ... a quick investigation using various search engines turned up next to nothing. So I guess what I said in the last paragraph is not entirely true, at least when it comes to the nut jobs that hang around with this band. In any case, Marvin (my personal robot assistant) suggested clicking on Trevor James Constable's orgone generating device and just shouting Mitch's name into the swirling space-time vortex it creates. We did that and, interestingly, heard back almost immediately. He's in Colorado. I don't think I probably have to tell you why. (Things usually look a little cloudy through the time portal, but I don't think that's the reason we could barely see the guy.)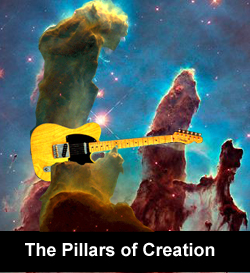 Then there's
sFshzenKlyrn
, our occasional sit-in guitarist from the planet Zenon. It seems
sFshzenKlyrn
has gotten back together with his old band, "The Pillars of Creation". I didn't actually find that out from him directly. They apparently did another photo shoot with NASA, using the Hubble Space Telescope. (I hear they're doing a promo spread in
Sky and Telescope
). If you look closely, you can see how
sFshzenKlyrn
has changed over the past couple of years. A little older, a little wiser, a little cloudier, perhaps.
So, sure ... keeping our hands busy, our minds engaged. Recording new numbers. And calling old friends out of the blue. Sounds like winter to me.