Right, so there ARE gravitational waves after all, disturbing the peace of the space-time continuum. Uh ... I knew that. No news to me. Next question?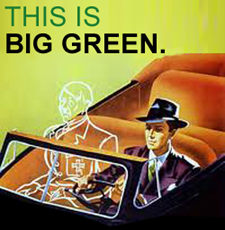 See, here's the advantage of having a mad science adviser. (Every band should have at least one. Wilco, I believe, retains an entire
gaggle
of them.) Just casual hallway conversations yield amazing benefits. Turns out there are planets with negative gravity. True story. In fact, our mad science adviser Mitch Macaphee claims that he was born on one. The negative gravity of his home planet was so strong that it immediately shot him like a cannon ball straight to Earth. Fortunately, he was wearing a heat shield poncho at the time (his first invention, innovated straight out of his mother's womb).
Mitch has an idea about how to manipulate gravity waves for casual amusement - kind of like playing with a galactic yo-yo. Only now he's back in one of his funks, with the announcement of the gravity wave discovery by prominent physicists. "Everybody's going to want a piece of this!" Mitch shouted upon receiving the news, and stormed off to his quarters. He's been brooding ever since. Hard to keep a man like that happy. We gave him the best quarters available in this abandoned hammer mill, and at considerable personal sacrifice. (I myself have been forced to make do with dimes.)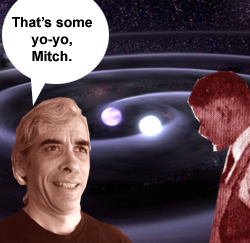 Not much we can do except continue working on our music. Yes, music comes first around here - ask anybody. We're currently producing a few more songs for the podcast, a couple of which may make it on to a collection at some point. It's kind of the same process we've been going through for the past few years - write and track about a half dozen songs, throw them up onto the Web, then do it again. That's how
Cowboy Scat
got done, for better or for worse. That's likely how the next album will go, though at some point we're going to knuckle down and record some of our older songs (at least one album of those), preferably before we punch our one-way ticket to geezerville.
Hold on ... I think my applesauce may be warm enough to gum.