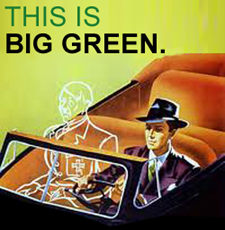 Hey, got any old concert DVDs or VHS's? No? Okay, well ... that makes one of us. In fact, I have stacks of them in the forge room. That is, unless Mitch melted them down into something useful.
Oh, hello. You just caught us in the middle of doing our year-end inventory, housecleaning, etc. I know, I know - that seems like a strange choice, given our recent preparations for an interstellar tour, but this is the sort of thing we do every year at this time, whether we need it or not. We sort of turn the abandoned Cheney Hammer Mill upside-down and shake it a few times. Whatever drops out of the east-side windows goes into the junk heap. Then it's the DPW's problem.
Some stuff is easy to get rid of. That cardboard carton our electric roll-out radiator came in? Probably don't need that anymore. Molded styrofoam from a shipping container? Fair game for the dumpster. Video tapes and DVDs, though .... that's another story. You never know when you'll want to watch the Concert at Big Sur movie (or what I euphemistically refer to as the anti-Woodstock) again, particularly that part when Steven Stills gets into a suburban grade school-level fight with some grizzled looking guy complaining about the high ticket price, then, after being led away by his bandmates, offers a lame little speech about how "everything's going to turn out however it's gonna," before playing
4 and 20
. Or when Joan Baez was having trouble keeping the stoned rhythm section together. That was awesome.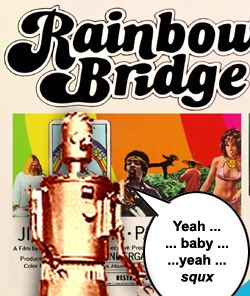 Other gems from the junk pile? Well, there's Marvin (my personal robot assistant)'s favorite: Rainbow Bridge! A "concert" movie that features about 15 or 20 minutes of Jimi Hendrix playing a set interspersed with about an hour-long montage of stoned hippies running up and down hillsides, being totally free. Why Marvin likes this so much I can only guess, though you can tell he's been watching it when you see him rolling pointlessly around the mill with his claws up in the air. I might get him a headband for Christmas this year ... or maybe some feathers and bells, and a book of Indian lore. (Apologies to Zappa.)
So, which is it going to be ... fly off to the stars in our Plywood 9000 rocket or watch old concert tapes? Tough choices.