Every time I see that standard shot of the White House on one of the major networks, I expect to see a plume of black smoke rising from an open window. This administration promised to be a major dumpster fire and it hasn't disappointed, the firing of FBI Director Comey this week (as he was requesting an expansion of the Trump Campaign/Russia probe) being just the latest flare-up. As predicted by some of the more observant commentators, the leaks began almost immediately - the
New York Times
,
Washington Post
, and
Wall Street Journal
all posted pieces that put the lie to the various hastily concocted stories flying out of the White House. If they're not hiding something very, very compromising, they're doing a tremendous imitation of it.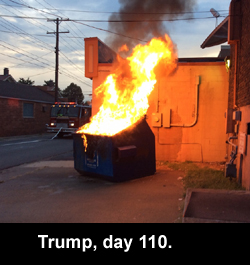 The thing about dumpster fires - or any trash-fueled conflagration, for that matter - is that they conceal as well as destroy. It's hard to ascribe intentionality to the Trump administration; they are without a doubt the dumbest box of rocks that ever rolled into the oval office, so the idea that they could cook up some massive deception campaign is kind of ludicrous. If they are not deliberately distracting people with their antics, they are certainly playing the role of the useful idiot. I'm not suggesting they're running interference for Russia or anything like that. What their ineptitude facilitates more than anything else is the steady progress of the broader GOP agenda - namely, massive tax cuts for the wealthy, dismantling of our rudimentary social safety net, scuttling the ACA, pulling down regulatory constraints on industry, and so on.
We face some major threats. One is that Trump will launch another war as a means of changing the conversation. Another is that a terror attack will flip the script, as it did in 2001, and we will be riding the revenge juggernaut to the end of the Earth, literally. But not least among these is the threat that the Republicans will get most if not all of what they're calling for. They already have Neil Gorsuch on the Supreme Court. Don't think the Senate won't pass some version of their draconian health care reform / tax cut. These are less dramatic outcomes, but no less destructive of our society.
Trump probably has extensive ties to Russian gangsters, just as he has with the domestic variety. It will likely come out eventually, but I warn you - don't be distracted from the real work that's going on in Congress right now.
luv u,
jp