I'm not going to spend a lot of column space on the foibles of the Trump White House, entertaining as they may be. You've heard it all, right? Everything about Scaramucci, Priebus, and whoever the fuck. Hey, we elected a clown-car cartoon character president - we should expect this. What's really much more disturbing is what they've been up to behind the screen of all this palace intrigue. Some of it is fairly clear, like the disingenuous attack on the Affordable Care Act and Medicaid (i.e. Trump's repeated promises that the new bill would be better, that everyone would be covered, and that premiums and co-payments would be low). Some is not so obvious, and the devil in this administration is truly in those details.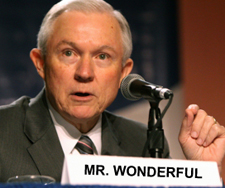 Take the Sessions Justice Department (please). Reporting this week has indicated that they are redirecting the
Civil Rights Division to look into cases of reverse discrimination
in college admissions. They are denying it up and down, but it would in no way be out of character for Beauregard and his new Civil Rights Division chief, John Gore, who was part of a law firm defending North Carolina's recent "bathroom bill" anti-LGBTQ legislation as well as working for increased ballot access restrictions. I think it's obvious that any agency or division in the Executive branch not currently headed by someone who opposes its core mission is on borrowed time.
Foreign affairs is a mess, of course. Trump has expressed interest in the mineral wealth of Afghanistan, raising the specter of an even further resource-fueled extension of our pointless war in that unfortunate country. Meanwhile, Iran and North Korea are both on notice again, the Trump team trying its best to ratchet up the tension in the powder keg that is the Korean peninsula while setting the United States on a course to war with Tehran. Just what we need: too more pointless, avoidable wars. (Trump felt it necessary to do the typical fake bombing runs over Korea as well as test one of our massive arsenal of ICBMs.) It should come as a surprise to no one that a foreign policy left mostly to the generals will tilt toward warfare.
Okay, I haven't covered much, but there will be plenty of time to go into all that is left (I hope). As horrendous as all this sounds, it's really just been another week of the Trump administration .... which actually sounds even more horrendous, particularly with 3-1/2 years to go. Fuck me - this is awful.
luv u,
jp