The president this week took a break from his 3-week vacation to issue an existential threat against a sovereign nation. If the intention was to intimidate the target country, well, it didn't work so well - the DPRK responded with a thinly veiled threat to launch missiles at Guam, home to 160,000 people and two major U.S. airbases. That prompted another nuclear threat from Trump. Then he threatened to invade Venezuela. This may turn out to be the longest summer vacation in history.
In some respects, this feels very familiar. The Defense Intelligence Agency leaking an intel assessment about North Korea being able to miniaturize nuclear weapons to a warhead-ready size - that sounds like the Iraq war run-up to me. Clearly someone likes the idea of another catastrophic conflict on the Korean peninsula. The cheap, sloppy trash-talking, though, is different. The only close to comparable incidents I can think of from other presidencies is, perhaps, W. Bush calling Kim Jong Il a "pygmy". No, this was full-throated nuclear sabre-rattling of a type that only pathetic posers like Seb Gorka could admire.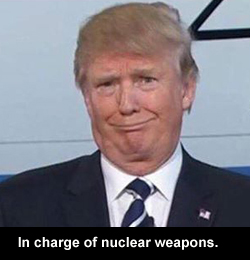 So now we're in a nuclear pissing-match, by conscious choice of the president. That is unacceptable, though quite predictable. During the campaign last year he lamented that the nuclear arsenal was a kind of white elephant and wondered about its utility is we never used it. People voted
that
guy into office, and now - six months in - he's threatening people with fire and fury. Trump is what many had surmised before: a man unfit for service in any capacity, let alone the Presidency of the United States. But an unfit man cannot be president - it is far too potentially destructive a job to be held by someone with severe mental problems.
Based on his comments this week, it's clear that Trump must be removed from office. The constitution provides for this outside of the impeachment process - it requires the Vice President and a majority of the heads of federal agencies to certify that the president is unfit. I know some of my progressive friends are growning at the thought of a Pence presidency - so am I - but the problem with Trump supersedes any political considerations. They need to invoke the 25th Amendment and save the country and possibly the world. I'd sooner spend the next three years fighting the Pence Administration than stand with my arms folded as millions more Asians are kicked into a mass grave by this murderous dunce in the White House.
Let's face it: Trump won the presidency by virtue of our constitution. We need to encourage others to utilize that same constitution to protect the nation and remove President Trump from office.
luv u,
jp