Well, we've heard from Arizona's senators. Sort of. Does this amount to anything? If so, I don't know what, but judging by the coverage afforded by the mainstream media, I must be missing something. I've heard Jeff Flake compared to every great orator this side of Cicero over the past few days, but honestly - what did he say? What is the substantive issue here? It sounds to me like tone, "integrity", adherence to accepted norms of behavior, and mental/emotional stability. Important, yes, when you're talking about the President of the United States - a man who can, on a whim, destroy the entire planet. It may be dawning on some of these GOP senators - at least the ones no longer eyeing re-election - that having a crackpot in that most powerful chair on Earth may not be such a good idea.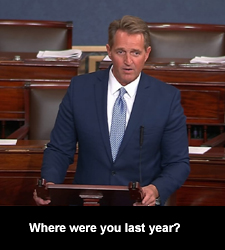 Thing is, where the hell were they last year when they could have done something about it? I think you know the answer to that. Trump is not an anomaly - he is the product of 30 years of mounting extremism in the Republican Party. They may have tut-tutted him once or twice during the campaign, but it never rose to the level of obstruction. No, they were more than happy to elect a sociopath idiot narcissist to the imperial presidency, so long is it meant they would get their way on legislation, appointments, and executive policy. That's all they fucking care about, people. Their congressional leadership says so every day. So even if a handful of retiring senators complains that Trump's ill-treatment of Gold Star families is disgraceful, the party will still stand in full support of that signing hand. This isn't an ideological battle, because they - Trump and his party - all agree on 90% of their program. To the extent that people like Jeff Flake disagree with the president on policy, it's largely on the basis of his hostility towards so-called "free trade" agreements.
Take their tax policy (please). The GOP is framing this as another visit by Pappy Tax Cut. The fact is, they will likely raise taxes on working people and the poor, just as they often do. They did so during the Obama years at least twice - once when they refused to renew the "Making Work Pay" tax credit, and again when they scuttled the withholding tax reduction. Now they're talking about reducing tax exemptions on contributions to 401k plans. Set aside the fact that these retirement instruments are woefully underfunded in the first place and represent a free-market retreat from the notion of a liveable retirement plan, this is just a backdoor attempt at funding the massive cuts they're promising to their rich donors. Regardless of what Trump claims, he will sign it, then call it something it's not. That's what he always does.
If the good of the nation matters now, it certainly mattered last year when the GOP could have stopped Trump cold. They didn't, and so plainly, it doesn't.
luv u,
jp