Let's have some fun with semantics, shall we? Start with the word "gun". What is a gun and when does it stop being a gun and become, say, a bazooka or a howitzer? Though I suppose you can say that a howitzer is a kind of gun -
big
guns, as in "Bring out the big guns!" How about a staple gun or a glue gun? So a "gun" just a device for expelling something, right? That's why it also serves as one of umpteen English euphemisms for penis, among other applications. Well, fortunately for you 2nd Amendment purists out there, this very confusing word "gun" does not appear anywhere in the text of your favorite founding document of the Republic. The Constitutional scholars over at the local NRA gathering simply assume the word "arms", which is used in the amendment, means every manner of gun from the .38 special to the Kalashnikov. Why they stop there I have no idea. Given the vague wording of the 2nd Amendment, our founders seem to leave the door open to an inalienable right to brandish a bazooka, or a howitzer, or a tactical nuclear missile for that matter. "Arms" is a far more general term than "gun", so obviously we draw the line somewhere.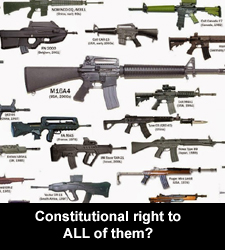 Based on the evident facts of the massacre in Las Vegas, it's way past time to move that line a bit south from where it's been over the past couple of decades. I know my gun enthusiast friends bristle at the thought of restricting "assault rifles", largely on the basis of the fact that the term is not sufficiently defined and, like all terms, highly subject to interpretation. Fair enough. But it seems to me we are in need of restrictions on the actual firepower represented by these weapons (particularly when modified, as the Las Vegas shooter's rifles were, to operate as automatic weapons) rather than the specific design. Nine rounds a second seems kind of excessive, for instance. Is there any earthly reason why someone using a gun for self-defense, hunting, or other varieties of personal amusement would need to shoot more than a round or two per second?
I know, I know ... I'm trying to spoil people's fun. There are something like 200,00 legally registered automatic weapons out there, millions more semi-automatics, and people just love, love, love to shoot them at target ranges, etc. Great. But weight your right to do something fun against the right of others to be protected against the massive trauma and death caused by such weapons on a regular basis. If you can have your normal old .30-30 hunting rifle, your handgun, your shotgun, and your Bowie knife, but NOT the modified assault rifle, has your right to keep and bear arms been violated? You still have guns, right? Just not every kind of gun you
want
to have.
I guess our little semantics game should end on "rights." Are "rights" about what we
should
be able to do or are they about being able to do
every little thing our heart desires
... like owning that modified AR-15? I guess it's up to us to answer that question.
luv u,
jp