In as much as it's the fifteenth anniversary of the invasion of Iraq and one of the war's principal architects/apologists is about to become National Security Advisor, I thought this might be a good time to take a look back at to what extent we have fucked the nation of Iraq beyond repair over the past six decades. Jeremy Scahill did a good look back on his podcast,
Intercepted
(see
https://theintercept.com/2018/03/21/us-war-iraq-legacy-of-blood/
), but there are a few items that I would like to pull out of that broader narrative, much of which I've talked about before, though it bears repeating in the current climate of fear.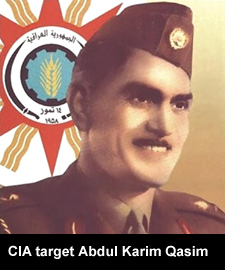 First, we helped the thug/torturer Saddam Hussein from the earliest moment in his career, when in 1959 he made a botched attempt at becoming Iraq's Lee Harvey Oswald, taking a shot at the country's leader Qasim (who had taken power the year before after a coup against King Faisal). Hussein ran to Tikrit, then was spirited away to Beirut, where he lived on the CIA's dime, then to Cairo, where - again - he was a guest of the CIA. Qasim was a nationalist, socialist type, so we were glad to support the Ba'ath party takeover in 1963 and Hussein's subsequent rise to power.
Writing about the 1959 assassination attempt back in 2003, Richard Sale wrote:
According to another former senior State Department official, Saddam, while only in his early 20s, became a part of a U.S. plot to get rid of Qasim. According to this source, Saddam was installed in an apartment in Baghdad on al-Rashid Street directly opposite Qasim's office in Iraq's Ministry of Defense, to observe Qasim's movements.
Seems our intelligence agencies were always fixing Saddam up with a crash pad. Some years later, by the time of the Iran-Iraq war, the United States got very close with Saddam's regime. Again, Sale:
In the mid-1980s, Miles Copeland, a veteran CIA operative, told UPI the CIA had enjoyed "close ties" with [the] . . . ruling Baath Party, just as it had close connections with the intelligence service of Egyptian leader Gamel Abd Nassar. In a recent public statement, Roger Morris, a former National Security Council staffer in the 1970s, confirmed this claim, saying that the CIA had chosen the authoritarian and anti-communist Baath Party "as its instrument."
This was such a cozy relationship that during the tanker war between Iran and Iraq when the U.S. was re-flagging and escorting Kuwaiti tankers in the Persian Gulf, Iraq's mistaken attack against the U.S.S. Stark was essentially dismissed, much like the Liberty in 1967. (I always found it interesting that this fact was not deployed during the run-up to our 2003 invasion. It was simply too complicated a story to tell.)
So ... Saddam Hussein was our kind of thug. Until he disobeyed orders. More on the consequences of that transgression later.
luv u,
jp