As is his common practice, Trump has been gesticulating wildly this past week, choosing Easter Sunday to crush the hopes of DACA recipients across America (many of whom consider Easter first among holidays), announcing tariffs practically at random, and threatening to send troops to line our southern border (as northbound crossings are at a 46-year low). I seriously doubt the National Guard will be stopping Norwegians at Nogales, so note to all those disgruntled citizens of Oslo who want to leave free healthcare and university-level education behind for a chance to live in the land of the free: don't even
think
about it!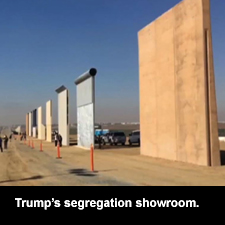 The shit storm is usually a smokescreen, a bit of grimy flash powder to distract most of us from what the administration is actually doing and to excite that grisly some of us who get off on targeting dark people. When the president hammers hard on his core themes, you know he's worried about something. I'm expecting a major attack on Muslims soon - maybe Somali refugees, since they conveniently pull together the various attributes that make for great racist demagoguery: Islam, marked immigration status, dark skin, head scarfs, non-Norwegian sounding names, strange language, etc. He has already singled them out more than once as President, I believe, and certainly during the 2016 campaign.
Much of the raw violence promoted by this administration is being done overseas, both as a function of our military deployments and by virtue of our support for aggressive allies. (This will likely only get worse with the arrival of John Bolton.) We were all treated to a visit by the Saudi prince recently, who likes to be called MBS (perhaps because it makes him sound like a bank). Fortunately he wasn't drowned by all the admiring drool from the Tom Friedmans of the world. Of course, they never discussed the attack on Yemen except in the context of a friendly slap on the back, I'm sure. Then there's the Israelis, who are better than anyone at getting away with killing upwards of 20 protesters, wounding 750 more, and blaming the victims. Numbers like these - in response to a protest, no less - indicate an enhanced sense of license on the part of the Israeli leadership. Donnie has your back, guys.
So we have the "others" that live among us and those other "others" in other countries. We're supposed to be afraid of both, but I'm certain most of us just fear what's going to become of us over the next three years. Nothing good, I'm afraid.
luv u,
jp