The reverberations of Trump's rampaging State of the Union speech had barely faded before he started tweeting like an arrested tween. His wild claims about the Nunes memo, reflective of the fevered rhetoric proffered daily by his favorite network, were contradicted by the content of the memo itself, a selective, shabby attempt to draw the public's attention away from the Mueller investigation with an almost laughable claim of concern for Carter Page's civil liberties. Why do major modern political scandals always turn on weak spindles like Page and - for Hillary Clinton - Weiner? Maybe that's the only kind of spindle we've got.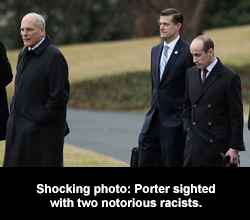 This, again, feels like a big distraction from what the administration and the congressional majority are actually doing. If we're obsessing over one or the other revealing memo, we're not thinking about recent surveys - including
one by CNBC
- that indicate that the vast majority of large businesses have no intention of spending their tax savings on hiring people. That's no big surprise, but it's probably worth mentioning once in a while, right? After all, misguided workers who voted for Trump should be given the opportunity to understand that you can't trust the rich to help anyone but themselves, and that tax cuts are a poor investment in job creation.
Still, the administration will trot out the handful of examples that seem to fit their narrative, even if they don't. I'm sure they've crowed about AFLAC, even though practically none of their sales workforce is eligible for the bonuses they promised so loudly. This is what they do with immigration and other issues - they essentially hold up the exception and claim it's the rule. Doesn't matter ... think about the memos! The last few days they have been pushing this story about the FBI agent texts suggesting Obama was "keeping tabs" on the Clinton email investigation - subgenius senator Ron Johnson (R-Wisconsin) is their wingman on this conspiracy theory. My guess is that they are using this to distract attention away from the fact that one of Trump's chief aides is a serial spouse abuser who can't get security clearance to save his life ... and yet he STILL handles top secret, burn-after-read briefings for the President. In other words, they don't want you to think about what an insufferable ass General Kelly is, not to put too fine a point on it.
Just another week in paradise. Is it November yet?
luv u,
jp